Four Under Forty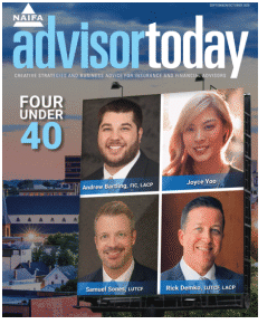 Joyce Yoo, Wisely Financial's founder, was featured in the cover story of Advisor Today for achieving the 4 Under 40 award. Below is the featured article, reprinted with permission from Advisor Today.
Four Under Forty
Because so many financial advisors don't make it past their first few years in the business, it is always heartening to read stories of triumph about young advisors. This article shines the spotlight on the recipients of this year's Four Under Forty awards and the strategies they used to accelerate their journey to success.
JOYCE YOO
"It's Not About Me!"
For Joyce Yoo, it's all about using her knowledge to help clients achieve their goals.
When COVID-19 struck a few months ago and forced many people and businesses to put their lives on hold, 39-year-old Joyce Yoo did not take a break. Instead , s he contacted all of her clients and asked them how they were doing and if they needed help. This penchant for caring for others is at the heart of everything Yoo does and is mainly responsible for her meteoric rise to the top.
Yoo joined New York Life Insurance Company in 2009. For her, this was a good time to be in the financial services industry to help clients emerge from the financial crisis. In fact, when she interviewed at New York Life, "the meeting was all about helping people," she said. "That's how it all started."
Over the years, Yoo has made helping her clients a top priority, and this strategy has produced some pretty impressive results. Today, she is the executive partner of San Francisco-based Wisely Financial Strategies and Insurance Solutions, which provides clients with a wide range of advanced financial services, including estate planning, compensation planning and asset protection.
THE ROAD TO THE TOP
Yoo's focus on helping her clients has helped her move quickly on her path to success. For example, although the calls she made to her clients right after COVID-19 struck were simply to find out how they were doing, they did result in several referrals. "I was not looking for business," she said. "But my older clients, in particular, were grateful to have someone to talk to."
Something else that has helped Yoo move ahead is her love of learning. For example, she attends a tax seminar every year to learn about the latest tax changes that might help her clients. "I believe that by constantly learning, I can help my clients with more of their financial problems," she said.
To grow her practice, she also does what she calls "focused prospecting." Since she is an introvert by nature, she focuses her prospecting efforts on the people she wants to attract as clients.
In addition, she is a member of study groups that have successful advisors, and she is able to learn from them. "I know who I can call on in my network for advice, motivation and support," she said.
Something else that has helped propel her to the top is her decision to live by this maxim: Never be comfortable with where you are in your career. If you are, you will not challenge yourself, and you will not reach your full potential.
NAIFA'S ROLE IN HER SUCCESS
And then there is NAIFA, which Yoo became a member of as soon as she joined the industry. For her, it makes total sense to be a NAIFA member. By supporting the association, you are supporting the industry and helping increase the chances that you will stay in business and continue to build your career, she said.
"I believe that by constantly learning, I can help my clients with
more of their financial problems."—Joyce Yoo
Her NAIFA membership also gives her access to a wide range of professional-development resources, including Advisor Today. "I love reading Advisor Today because it gives me different perspectives on how to grow my business," she said. In fact, she frequently uses an Advisor Today article about term vs whole life insurance when meeting with her clients.
HONORS AND AWARDS
Over the years, Yoo has received many honors and accolades, thanks to her high level of professional success. She is currently a member of Nautilus Group Plus, a highly selective group of skilled professionals limited to the top 30 members of The Nautilus Group, and a member of the Nautilus Next Generation Committee. The Nautilus Group is a membership-based resource accessible to an elite group of insurance and financial industry leaders who are firmly committed to a team planning concept.
In addition, she is a Court of the Table member of the MDRT and has achieved recognition as part of New York Life's Chairman's, President's, and Executive Councils.
When Yoo is not giving her all to helping her clients succeed, she is busy supporting several charitable and civic organizations, including World Vision. In addition, she leads a Bible study group of New York Life agents and supports organizations that help at-risk children. "I really try to turn off completely when I'm off work," she said. "Spending time away from the business actually gives me time to think. Strangely, because I give myself room to turn off, great ideas will come to mind when I'm relaxing."
LOOKING AHEAD
By all accounts, Yoo is a professional who has moved ahead by working hard, always seeking opportunities to enhance her education, and doing what she likes to do the most: help her clients solve their financial problems. In fact, some of the proudest moments of her career have occurred when she has been able to tell her clients that they have managed to reach an important goal.
Perhaps this is why, when asked where she plans to be in her career five years from now, she mentioned no desire to embark on a different route. Instead, she said, "I will be doing the same things, but doing them differently. I will always have the same desire to learn more so I can better serve my clients."
With such a laser-like focus on learning and helping clients, all signs are pointing to a future that holds more years of success for Yoo.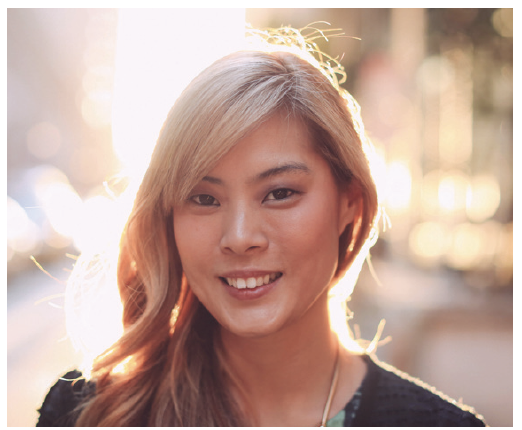 Joyce Yoo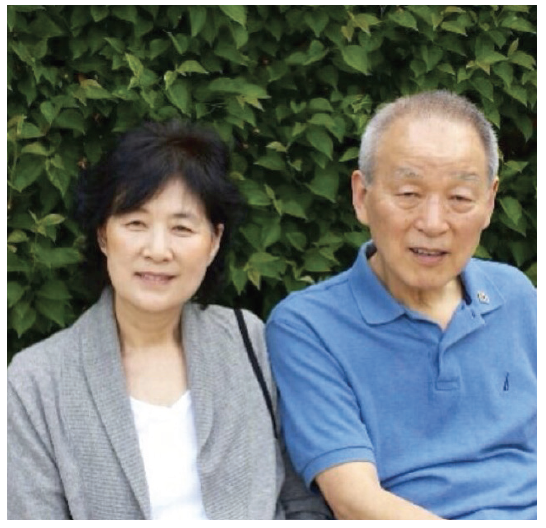 Yoo's parents.